This next review comes from Catherine, the owner of the Thoughts All Sorts blog. Thanks for your contribution Catherine, it was brilliant as always to hear from you when you signed up for the blogathon. Bend It Like Beckham

Bend it Like Beckham (2002) is one of those fun, feel-good British comedies. I remember […]
via Catherine's Entry For The Play To The Whistle Blogathon — Film and TV 101
Or read it here:
Bend it Like Beckham (2002) is one of those fun, feel-good British comedies. I remember it being released way back then – was the talk of the film town. In fact, that's how I was introduced to the lovely Keira Knightley. I also didn't know who Jonathan Rhys Meyers was before that.
Nominated for a Golden Globe (best musical or comedy), it tells the story of Jesminder 'Jess' Bhamra (Parminder Nagra) who dreams of playing with David Beckham. Reality, however,  being a quick game with her friends in the park. One afternoon, Jules (Keira Knightley), approaches Jess to try out for a girls soccer team which she then joins. While keeping up with soccer practice and coach "problems", she also has to juggle tradition, parents, friends, sibling weddings, sibling fights and such.
It's always fun (and in a way, sad) watching Jess being torn between playing soccer (and being half naked in shorts, according to her family) and fulfilling traditional expectations. The two leading ladies are perfect in their representation of the two aspects without making it too obvious in this light-hearted story.  And, they're convincing as friends with their ups and downs.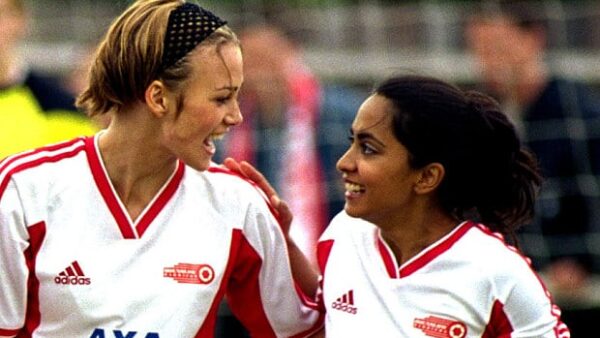 While not a "serious" sports movie, it is a sweet one about following your dreams. Just watch this one for the escapism.